My friend and I went on one of our photography road trips this last weekend. We've decided a while ago to go to Moab again… We both love Moab… And there is always something new to see and take pictures off. We decided this time to go already on Friday earlier in the day so that we could make it in time for some daylight still. (Usually we leave after we are both done with our full time jobs which means we get to Moab in the dark… ) Once we checked into our hotel we took off into Arches National Park. We did get there right on time and were able to get a few sunset shots.
Balanced Rock
Balanced Rock from the other side
When the moon showed up we've noticed that Venus and Mars were right next to the moon. Venus is the brighter planet to the left and Mars is the smaller planet closer to the moon. This constellation doesn't happen too often so I changed my lenses to get a close up picture of it. The moon was actually a crescent moon but you could see the full moon instead of just the little sliver. The last time I saw something like that was when we had the blood moon last year… It was really fascinating. I love the universe.
After we took the moon pictures we decided to go and have some dinner and then go back out for some night photography. We went to a fabulous Italian place in Moab (The Caprese salad was out of this world!!) Then we decided to go back out and check out Double Arch in Arches National Park. If you haven't been there yet you are missing out… Those double Arches are impressive. And for all of you that have been there you know that it's just a short walk in the sand to get there… Well, usually not a big deal, however, if it is pitch black and you have only one big flashlight and you have to find your way to the arches and back – let me tell you, it's a whole different ball game… 🙂 If the flashlight is off you can't see anything in front of you even though there are so many stars out there… Plus this sandy walkway doesn't have any specific markers and it has all these little walkways branching off of the main one… It was definitely an adventure for us city folks… 🙂
Once we arrived at Double Arch we used the flashlight to paint the light onto the Arches to give it some dimension since it would otherwise just show up as black. I love light painting. Your options with light-painting are endless!! I've only started playing around with it but it is so much fun!! Go try it out!
Here is a picture of Double Arch during the day from one of our trips last year as a reference (and yes, that tiny blue spot of sky is real, no photoshopping done 🙂 )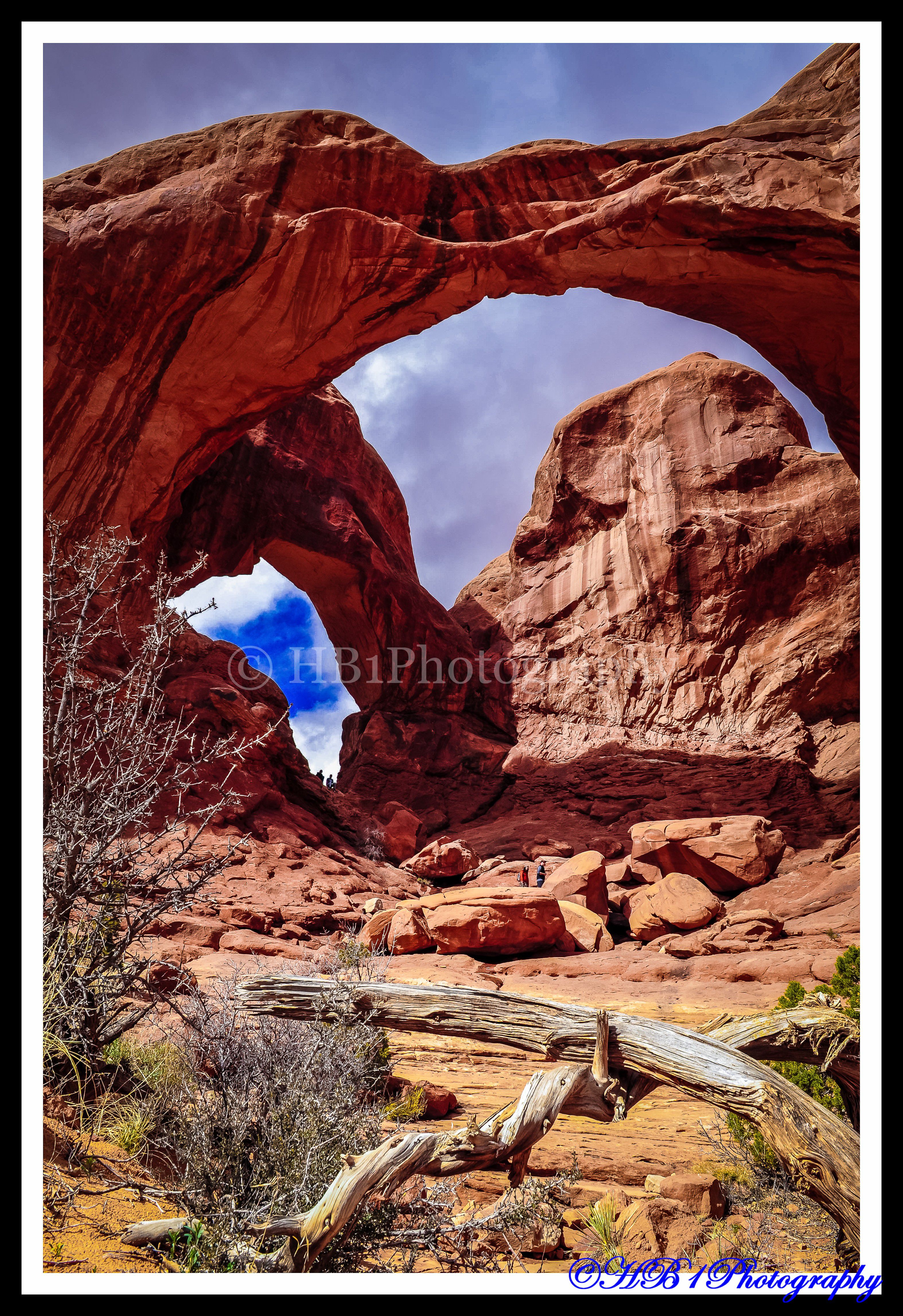 Once we got back to the hotel from our night adventure we fell into bed (it was way past midnight…) and unfortunately just couldn't make it out of bed for a sunrise shoot. 🙂 I'm just not a morning person… I know, not the best trait for a photographer… 🙂
On Saturday we made a quick trip to Colorado since the weather wasn't the greatest and on our way back we stopped at this cool little ghost town where we just had to stop and take a few more pictures. We've never even heard of this ghost town before but my friend and I love to explore and we are very spontaneous! I love it!
Unfortunately it was pretty much at sunset and it was freezing so we decided that we will have to come back and spend a few hours there the next time since there was so much more to see! Here is just a little sneak peak of one of the old abandoned buildings there. We are planning on going back so I will write a blog post about it once we'll get back. 🙂
And since a storm moved in on Sunday we didn't want to get stuck in the storm so we left early to go back home.
I love these short little road trips. Living in Utah you have so many places to visit and see and so many of them are so close by that it's easy to just go for a weekend. I would highly recommend everyone to go on short little road trips… You never know what can happen if you leave your immediate surroundings… You might be surprised what you'll find. 🙂
I would love to hear from you in the comments on what kind of trips you went on and what you found being spontaneous. 🙂
Have a wonderful weekend,
HB1Photography